Vision of Botany Department
To provide a platform to actualize students' talents and encourage them to mold their passion into a profession.
Mission of Botany Department
To generate knowledge and produce researchers, leaders and graduates in plant science, capable of providing solutions to industrial, health, agricultural and environmental challenges.
To fulfill the Tanintharyi Region and stakeholders' needs.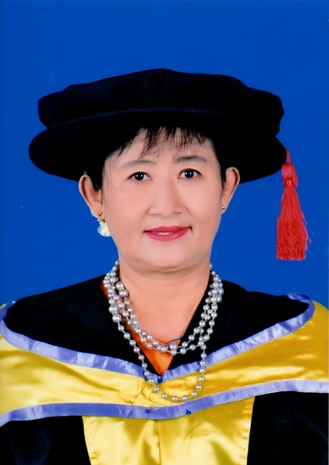 Current Position : Professor and Head, Department of Botany, Myeik University
Email : dryinyinmyabot@myeikuniversity.edu.mm
Workplace and address : Department of Botany, Myeik University, Tanintharyi Region, Myanmar
Academic qualification
B.Sc (Q) 1D, Botany (Pethein University, 1983-1984)
BSc (Hons:), Botany (University of Yangon, 1985-86)
M.Sc, Botany (University of Yangon )
B.Ed (Q)1D,( Biology + Chemistry ) (Yangon University of Education)
Ph.D, Microbiology (University of Yangon, 2006)
Career history:
High school teacher (6-1-1986 to 5-10-1994)
Demonstrator (6-10-1994 to 26-2-2002 )
Assistant Lecturer ( 27-2-2002 to 26-10-2006 )
Lecturer (27-10-2006 to 9-11-2011 )
Associate Professor ( 14-11-2011 to 30-11 -2019)
Professor ( 2-12-2019 )
Professor and Head ( 11-11-2020 )
Field of Interest
Microbiology, Ecology, Taxonomy, Environmental Science and Pharmacognosy
Publications
Isolated soil Fungi and their Biological Properties (Universities Research Journal 2011 Dec)
Inverstigation of Soil Fungi Isolated from Nyaung Done Petroleum Area and their Biological activites (Pathein University Research Journal 2011 Dec)
A Study on the Isolation of Soil Fungi and their Morphological Characters form Soil Samples Collected form Taunggyi University Campus (Taunggyi University Research Journal 2013 Nov)
Isolation and Purification of Antifungal Metabolites produced by Soil Fungus Mariannaceae (Pathein University Symposium Research Journal 2017 Feb)
Studies on the effects of antimicrobial metabolites producing endophytic fungi isolated from leaf of Mimusops elengi (Pathein University Research Journal 2018 Dec)
Isolation and Antimicrobial Activity of isolated Soil Fungi from Pathein University Campus (Pathein University Research Journal 2019 Dec)
Optimization for the fermentation of Antibacterial Compound against Agrobacterium tumefaciens (Proceedings of the international joint Symposium Pathein University 2019 sep)
Characterization of Antibacterial Compounds from Soil Bacteria and their Minimum Inhibitory Concentration (MICs)values (Myeik University Research Journal 2020 May)
Supervision (Total -16 )
M.Sc (6)
M.Res (3)
Ph.D (7)
Ph.D (Member)
External Examiners (Total 1 )
M.Sc (1)
M.Res
Ph.D
Present Field of Research
Isolated soil Fungi and their Biological Properties (Universities Research Journal 2011 Dec)
Inverstigation of Soil Fungi Isolated from Nyaung Done Petroleum Area and their Biological activites (Pathein University Research Journal 2011 Dec)
A Study on the Isolation of Soil Fungi and their Morphological Characters form Soil Samples Collected form Taunggyi University Campus (Taunggyi University Research Journal 2013 Nov)
Isolation and Purification of Antifungal Metabolites produced by Soil Fungus Mariannaceae (Pathein University Symposium Research Journal 2017 Feb)
Studies on the effects of antimicrobial metabolites producing endophytic fungi isolated from leaf of Mimusops elengi (Pathein University Research Journal 2018 Dec)
Isolation and Antimicrobial Activity of isolated Soil Fungi from Pathein University Campus (Pathein University Research Journal 2019 Dec)
Optimization for the fermentation of Antibacterial Compound against Agrobacterium tumefaciens (Proceedings of the international joint Symposium Pathein University 2019 sep)
Characterization of Antibacterial Compounds from Soil Bacteria and their Minimum Inhibitory Concentration (MICs)values (Myeik University Research Journal 2020 May)
Botany Department's Activities