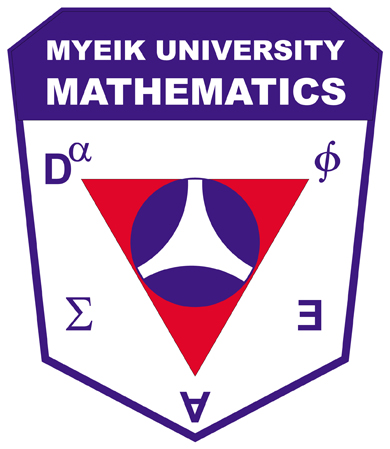 Objectives
Our curriculum provides courses that engage and empower students through collaboration, communication, critical thinking and problem solving. Students will be educated both in pure mathematics and applied mathematics.
Outcomes
-To provide mathematical knowledge to all undergraduate and postgraduate students.
-To help students develop their mathematical skills.
Approximately 500 undergraduate and postgraduate (Masters of Research and Master of Science) students gain skills and deeper
understandings of Mathematics in two different streams: Pure Mathematics and Applied Mathematics. Students participate in Myanmar Mathematical Olympics and are actively involved in Matlab programs.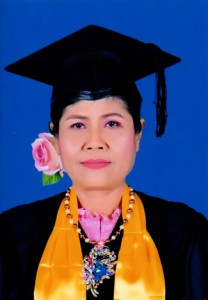 Contact address
E-mail: drayeayeyumath@myeikuniversity.edu.mm, maths3864@gmail.com
Education
2002-2006. PhD from University of Yangon

1996-1997 Master of Science from University of Yangon

Bachelor of Science from 1981-1983 Dawei College and 1983-1985 Mawlamyine Degree College
work experience
From June 2014 until, Professor (Head of Department); Myeik University, Myeik

From December 2012 to June 2014 Professor; Sittwe University, Sittwe

From September 2009 to November 2012, Associate Professor; Myingyan Degree College, Myingyan

From March 2003 to September 2009, Lecturer; University of Yangon, Yangon

From September 2002 to March 2003, Assistant Lecturer; University of Yangon, Yangon

From July 2002 to September 2002, Assistant Lecturer; Mawlamyine University, Mawlamyine

From April 2002 to July 2002, Assistant Lecturer; West Yangon University, Yangon

From January 2002 to March 2002, Assistant Lecturer; University of Yangon, Yangon

From May 1995 to December 2001, Assistant Lecturer; Yangon Institute of Technology, Yangon

From August 1994 to May 1995, Assistant Lecturer; Dawei College, Dawei

From August 1993 to August 1994, Tutor; Dawei College, Dawei

From October 1991 to July 1993, Tutor; University of Yangon, Yangon

From November 1986 to October 1991, Tutor; University of Yangon (Hlaing Campus), Yangon
Writing Local Research Journal ‌‌
Oscilatory Solutions of Hyperbolic Conservation Laws for the Shallow Water Equations, March 2008, Vol. VI, No. 3, MAAS

Some Applications of Two Person Zero-Sum Games, December 2017, Vol. 8, No. 1, MU

Investigation on Wavelet of Groups, July 2019, Vol. 10, No. 1, MU

Investigation on Entropy, 2020 May, Vol. 11, No.1, MU

Construction of Orthonormal Bases, 2020 September, Vol. 11, No. 2, MU

A Study on Euclidean and Factorization Domains, 2020 September, Vol. 11, No. 2, MU

Periodic Traveling Water Waves with Streamlines of Constant Pressure, 2020 September, Vol. 11, No. 2, MU
Research and educational activities
In November 2013, Attended the Sixth International Conference on Science and Mathematics Education in Developing Countries at University of Mandalay.

In December 2015, Attended the Eighth International Conference on Science and Mathematics Education in Developing Countries at University of Yangon.

In November 2016, Attended the Ninth International Conference on Science and Mathematics Education in Developing Countries at University of Mandalay.

In November 2017, Attended the Tenth International Conference on Science and Mathematics Education in Developing Countries at University of Mandalay.

In December 2018-2019, Thailand, The 5th Rajabhat University National and International Research & Academic Conferences (RUNIRAC) and Cultural Festival 2018 at PBRU University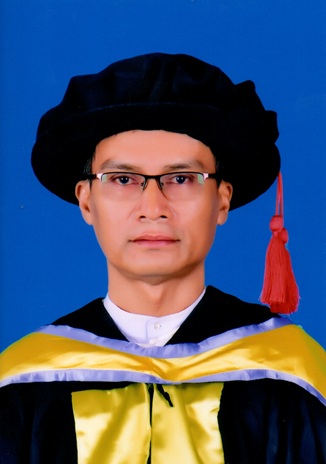 Contact address
E-mail: drthanhlaingmath@myeikuniversity.edu.mm, thanhlaing3864@gmail.com
Education
2012-2017. PhD from Yangon University

1982-1999 Bachelor of Science and Master of Science from Yangon University
work experience
From December 2018 to date, the Professor; Myeik University, Myeik Township

December 2017 to December 2018 Associate Professor; Myeik University, Myeik Township

Lecturer from September 2015 to November 2017 Dagon University, Yangon

Lecturer from June 2014 to August 2015 Myeik University, Myeik Township

Lecturer from May 2006 to June 2014 Dagon University, Yangon

Lecturer from February 2004 to May 2006 Dawei University, Dawei Township

Lecturer from June 2000 to January 2004 Dagon University, Yangon

Lecturer from November 1999 to January 2000 University of Yangon (Hlaing Campus); Yangon

Assistance Lecturer From January 1998 to September 1999 University of Yangon (Hlaing Campus); Yangon

Assistance Lecturer From January 1996 to January 1998 Sittwe University; Sittwe

Assistance Lecturer From August 1994 to January 1996 University of Yangon (Hlaing Campus); Yangon

Tutor from November 1993 to August 1994. University of Yangon (Hlaing Campus); Yangon

Tutor from October 1991 to November 1993. University of Yangon; Yangon

Tutor from September 1989 to October 1991. University of Yangon (Hlaing Campus); Yangon

Tutor September 1989, University of Yangon; Yangon

Tutor from November 1986 to August 1989. Hpa-An College; Hpa-An
Writing Local Research Journal ‌‌
The Method of Lagrange Multiplier in Optimization, 2020, Vol. 11, No. 1, MURJ

A Study on Euclidean and Factorization Domains, 2020, Vol. 11, No. 2, URJ

Periodic Traveling Water Waves with Streamlines of Constant Pressure, 2020, No. 2, URJ
Research and educational activities
In January 2019, Algebraic Characterizations of Unimodularity and Total Unimodularity of Matrices at Myeik University, 20th Anniversary Reading Ceremony
Mathematic's Activities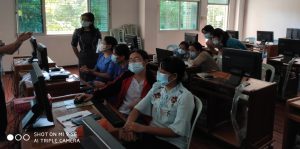 Training Duplication
LMS (Moodle) Training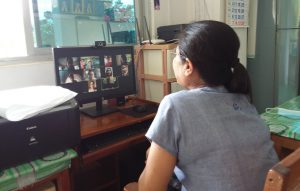 MSc Zoom Meeting Seminar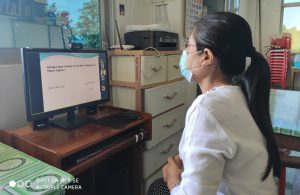 MSc Zoom Meeting Seminar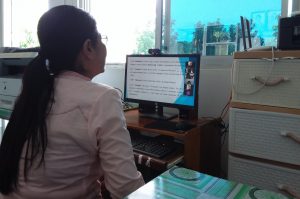 MSc Zoom Meeting Seminar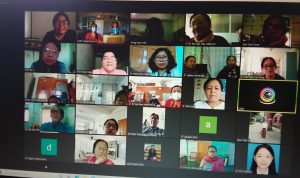 Digital Learning for BOS Meeting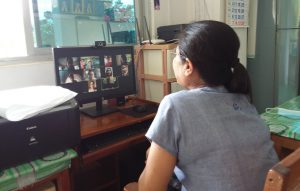 MSc Zoom Meeting Seminar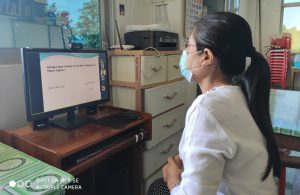 MSc Zoom Meeting Seminar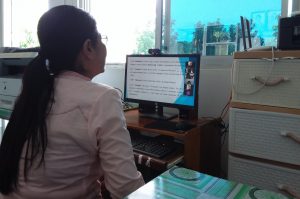 MSc Zoom Meeting Seminar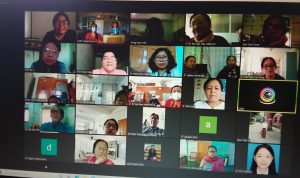 Digital Learning အတွက် BOS အစည်းအဝေး